I haven't written anything like this in a loooooooooooooooooooooong time.
***
Hey Dennis,
Nice to hear from you again. Haha, I'm guilty of not revisiting you on the music marketing for your bar, I've been unreasonably busy. But when I talked to Rocky I actually appreciated some of his choices, and I've discovered something new from him too (which is something vintage i.e. 80′s German/Euro Electro-clash-pop). And speaking of Electro-clash-pop and depending genres, I'm really in to it since two or three years ago when I discovered my most favorite Swede-band, who was on the rise then (The Knife) along with them guys from LCD Soundsystem who released their first album in 2005. Plus there's Thom Yorke, who finally (as expected) made an all electro-album. (a) By the way on Thom Yorke going electro, he just had to go out of control SOLO because people were starting to blame him for Radiohead's inadvertent shift from their trademark electric guitar rock band to the synthetic but very bop not-everyone-buys-it sound, (b) Radiohead's new album is a personal favorite because they noticeably LESSENED Thom Yorke's electronic ambitions in their band by letting him vent it all out on his own & (c) Best part about it, they haven't broken up. ANYWAY, you don't want to hear me wax poetic about it but they're my staple tips to people lately.
Last year, I had PJ Harvey on my playlist – 2007 was her most melancholic album among ALL her melancholic albums. Also listened to some Bjork (2007 – Volta) because I like how she makes an effort to be avante garde all the time, which is always good for innovation. New discoveries: this band called Spiritualized. They claim to be Space Rock but they basically sound like a mild version of Red Sparowes cross-bred with Film School's deadpan vocals. You might like "Ladies and Gentlemen we're floating in space", or their collaboration with Yoko Ono, "Walking on thin ice". The latter was once Ono's electronic single which has Lennon legacy all over it. Sigur Ros released their album last year, very good…Wait, I'm giving you a really melancholic lineup. They're all worth checking out anyway. What genre did you have in mind? If you like Rock, basic(ally), I liked Deerhunter's new album, it's very fresh and very Indie(gnified). The New Pornographers are getting more overrated by every album but they're still worth a shot in small doses… If you listened to Sonic Youth at one point in your life, they released an album last 2006 which I still listen to. And according to a lot of hipsters (who probably heard of them just recently because of Juno), their old track Carpenters rendition of the song "Superstar" is a winner. If you haven't heard of it, you'll probably like it. I liked it at first, really, but my ears would bleed if I hear it one more time from some hipster who just watched the movie Juno and came back liking SY and then The Moldy Peaches. Also check out Arcade Fire's Neon Bible, if you haven't already and tell me what you think because I'm running a random poll about it.
Sorry I got carried away with the nerd talk there. One last thing: Last year was a great year for Kevin Drew of Broken Social Scene. He collaborated with the same bunch of guys for his solo project, "Spirit if…" Very charged rock and still the same Indie sentimentality you get when artists really want to be profound, lol. It's scary, it's been the goal of a lot of these artists lately that I don't know what to make of it – whether or not it's still as deviant as Indie. Or maybe I'm getting tired of it. This week, I'm listening to instrumental music again. Post-rock, i.e. Mogwai and The Album Leaf. I don't know if you'll be into that since you like Kings of Leon who are unpretentiously rock. I liked half of last year's album because I haven't gotten around to listening to everything since I'm in this sort of phase. So far, so good. No dramatic changes really. But for some reason, the Europeans really liked it. It's one of those albums you listen to over and over again and never get tired.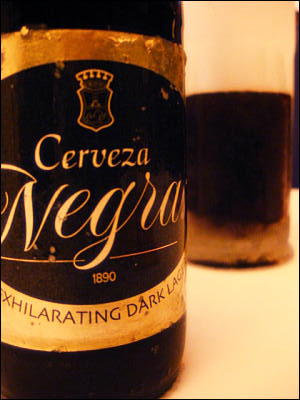 Oh and yes! Keep me posted about the Cerveza Negra.
As it is, there are only two places in Davao City who sell the local Dark Lager: that's at MTS and this place called "Some place else" at Rizal. I'm really puzzled why not too many people have heard of it when it's actually San Miguel's best brew out there. Hola Espana, your bar's competitor at Damosa, sells Guinness Stout and Murphy's but they eat through people's pockets. I seriously hope that people here would open up to the world of great tasting beer. Cerveza's like a poor man's alternative haha.
Ciao,
Kim
---